Twins Stroller (front-back)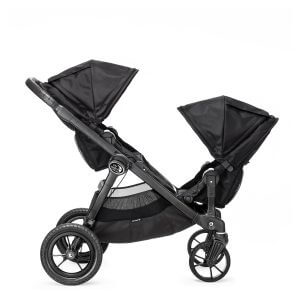 Ref.: P004
Model: City Select by Baby Jogger.
The most versatile stroller in the market today, it is ideal for children of all ages.
Prices:
1 day:
41€
3 days:
53€
1 week:
61€
1 month:
99€
0 months - 4 years
9-20kg per seat
Book now!
Call us!
Description
Technical characteristics
Dimensions
Description: The twin stroller is light, handy and compact.
Its Quick-Fold technology system makes it the only in-line stroller that stays flat in one step. Both seats are the same size; it can be used with one or two seats.
Excellent maneuverability.
Baby Jogger complies with all the safety and materials regulations established by the American Society for Testing and Materials (ASTM) y TUV EN-1888 with the most strict certification guides worldwide.

Technical characteristics: The twin pushchair includes five point safety harnesses with padded shoulder pads.
Multiposition canopy with SPF 50+sun protection and it can be adjusted to different children heights. It has a peek-a-boo magnetic closure so you can check on your child.
Reclining seats with four positions up to 163° that can be placed in both directions.
A telescoping handlebar adjusts to your height; hand operated parking brake and a footrest adjustable in angle and height.
Front wheels set to swivel for longer rides or lock for long distance strolling. The 12" rear-air tires fit any terrain.
Large bottom basket accessible from four sides.

Dimensions Folded: 83x65x32 cm
Unfolded: 134x65x97/105 cm
Weight: 15.4 kg
backrest height: 47cm
shoulder width: 29 cm
More Photos