Twins Pushchair (side by side)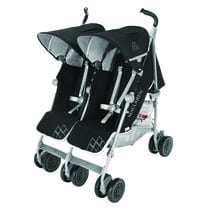 Ref.: P003
Model: Maclaren.
This twin stroller is not recommended for children with two years of age difference.
Prices:
1 day:
35€
3 days:
47€
1 week:
57€
1 month:
90€
6 months - 4 years
9-15 kg
Book now!
Call us!
Description
Technical characteristics
Dimensions
Description: It is practical and handy pushchair, it folds like an umbrella, with independently adjustable backrest and hoods, large bottom baskets for objects.


Technical characteristics: The stroller has cushioned wheels, the front wheels have block/unblock mechanism.
Independently adjustable full recline 4-position seats with convenient one-handed adjustment.
Five point adjustable safety harness.


Dimensions Folded: 42x37x108,5 cm
Unfolded: 75x104,5x74 cm
Weight: aprox. 11,9 kg

More Photos