Jogging Stroller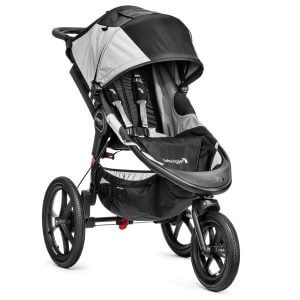 Ref.: P009
Model: Summit X3 by Baby Jogger.
All-terrain stroller recommended for running.
Prices:
1 day:
41€
3 days:
53€
1 week:
61€
1 month:
99€
6 months- aprox. 5 years
0-30 kg
Book now!
Call us!
Description
Technical characteristics
Dimensions
Description: Award winning stroller that performs exceptionally, it can be handled on any surface. With independent suspension on all wheels, the lockon the handlebar allows you to change the front wheel from walking to running.
Baby Jogger complies with all the safety and materials regulations established by the American Society for Testing and Materials (ASTM) y TUV EN-1888 with the most strict certification guides worldwide.

Technical characteristics: The stroller has two modes of locking the front wheel in a fixed position: from the handlebar for use on rough surface or from the running wheel.
An independent patented suspension system on all its pneumatic wheels for a smooth ride.
Ergonomic handlebar.
Its rear drum brakes allow absolute control in the most urgent situations. Rear parking break, it closes in a single move.
The seat reclines 151°.
Canopy with SPF 50+sun protection with two side windows to see the child and two side vents for air circulation

Dimensions Folded: 80x64x39 cm
unfolded: 126x64x101 cm
Weight: 12.2 kg.
back height : 51 cm.
Shoulder Width: 32 cm.

More Photos