Folding Bed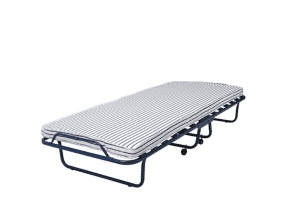 Ref.: D005
Prices:
Prices for reservations made more than 48 hours in advance. For deliveries/collections during business hours from Monday to Friday in city centers.
1 day:
45€
3 days:
55€
1 week:
65€
1 month:
109€
Book now!
Call us!
Description
Technical characteristics
Dimensions
Description: Extra bed with mattress, which includes wheels that facilitate displacement.
When not in use it can fold, occupying a small space.
Technical characteristics: The solid wood sheets of the base provide a firm support.
Bed strucuture: Steel, Epoxy/Polyester powder coating.
Sheet support: Polyethylene plastic.
Sheets: Birch sheet.

Dimensions Length: 190 cm
Width: 80 cm
Height: 36 cm
Mattress thickness: 6.5 cm